If you are searching for the best skateboard brands in 2019, you have come to the right place! There are so many skateboarding reviews out there that comparing good skateboard brands can become overwhelming or feel more like a chore, taking away some of the adventure in purchasing a new board.
We know that choosing the best skateboard brand doesn't have to be difficult or time-consuming, so we are going to help you along the way. Skateboarding is a fun way to stay active, and it is a great way to meet new people as well as get around town.
But we also know that having a poor quality skateboard can impact your skating experience. Whether you are looking for the best skateboard brands for beginners or if you are more experienced and looking for an upgrade, choosing quality is of the utmost importance. That being said, we are going to take you into the world of choosing the best skateboard brands. Below we will include all you want and need to consider for the top skateboard brands of 2019!
Read Next: What Are The Best Skateboards In 2019?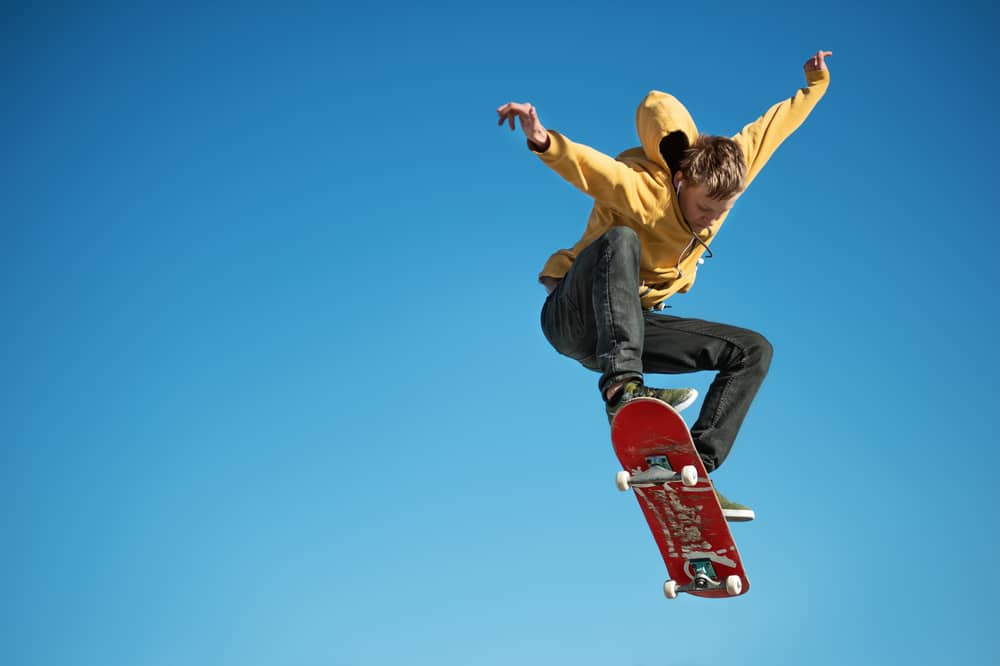 10 Best Skateboard Brands in 2020 
1. Quest
Since its arrival on the boarding scene in 2014, Quest has become one of the most famous, well-received, and best skateboard brands over the last five years. This brands offers different products, such as bamboo longboards and classical designed longboards. They are easy to navigate as a beginner and as an experienced skater– and better yet, Quest is eco-friendly!
Quest broads are reasonably priced and offer elegant designs for a long-lasting skateboard. Despite the fact that they don't have a large variety in their longboards, the options they do have, such as the quest Super Cruiser Artisan Bamboo Longboard, are of high-quality and top-class. From reliable stability and structure, Quest has gained popularity in the skating world as their boards offer long-lasting service combined with great features and funky style.
Between their use of multi-ply hardwood maple decks, inexpensive price, and accommodating structures that will allow any skater to free ride or cruise, Quest is one of the best skateboard brands on the market in 2019. Reviews rave about their light wait aluminum trucks, stock bearings, and busing– and we know you will too!
2. Minority
Whether you are a beginner or professional skater, or young or old, Minority skateboards are one of the top skateboard brands of 2019. Minority is accessible to and for everyone: many of their designs have a high-quality cold-pressed deck that is comfortable for any ride, as well as aluminum ally trucks, and steel bearings. Minority's brand uses grip tape fondly to ensure your feet from slipping, and the color and designs are made so they won't fade with time, use, or sun exposure.
The seamless and controlled movements that this brand offers makes it popular in the riding world. Minority's use of a 7-ply hard rock gives the deck a flexible and shock-absorbent nature, which is helpful for tricks. They also use epoxy glue for extra support. Combined with the brands concave shaped kick-tail and nose, all riders have great maneuverability with Minority boards.
From bejeweled decks, a variation on wheel sizes and shapes, as well as a double graphic design, Minority has been catching the eye of all skaters since it first started as a sport-specific brand. Now, Minority makes boards for all riders at different stages, such as the classic 32 inch Maple Skateboard, making it one of the best skateboard brands in 2019.
3. Rimbale
Rimbale is a longboard brand that is known for their design and color. In fact, we would say that Rimbale is one of the top skateboard brands in regard to design– but we also know that color isn't the most important aspect when wanting a quality ride. Luckily, Rimbale is a reliable brand that has grown over the past few years, satisfying all of its users with their stable boards.
Despite its consistency with great designs and stability, this brand does not have a wide collection of longboards, but all of the models that have been released, such as the Rimable Dancing Longboard, are well received and reviewed for superb performance. Rimable knows how to accomadte for specific rides and offers models for the four different riding styles: cruising, freestyle, free ride, and downhill. But better yet, they also have a few models that can be used for all riding styles.
Rimable also uses quality wheels and deck, which allows skaters to to get the most in regard to speed. In addition to their wheels and deck, the bearings, business and trucks are all of high quality as well, using aluminum trucks, and ABEC ratings. These components help make the boards adaptable for high-speed adventures and help the overall performance of the board, making it one of the good skateboard brands in 2019.
4. Powell-Peralta
Powell-Perlata started in 1978, making it an older brand– but just because it is older, does not mean it is not one of the best skateboard brands of 2019! Professional skaters often gravitate toward this brand as it has been known to handle the everyday grind. Combined with this reputation and the craftsmanship of the Powell-Peralta brand, these boards can range in price. Powell-Peralta makes sure they appeal to all skaters, offering normal price ranges, as well as expensive premium boards.
Powell-Peralta makes their boards with thinner, lighter, and stronger decks. They are infused with epoxy and contain fiber to reinforce the resistance of breakage. While this makes it more of a "grippy" board, this is great for those skaters who enjoy performing tricks, as the pop and stiffness of the deck helps land tricks. Powell-Peralta also uses wheels that are bade of high-rebound and hand-cast polyurethane, which gives it a smooth performance.
From their aluminum trucks, variety of bushes, and unique design production that appear to really love dragons, the Powell-Peralta brand is well received as a secure board. Many of their designs, such as the Powell Golden Dragon Flying Dragon Complete Skateboard, are great for durability and promise to be a fantastic ride.
5. M Merkapa
While the M Merkapa brand is new and upcoming in the skating industry, that does not distract from the fact that it is one of the top skateboard brands of 2019. M Merkapa is a company that specializes in outdoor sports and leisure products, selling a variety of products such as skates, scooters, inline skates, and diverse accessories.
Because M Merkapa takes pride in being a company that specializes in outdoor products, they promise that their skateboards are made of the best quality materials at a good price. This brand loves to emphasize their mini cruisers in particular, which are fantastic for smooth rides with their lightness, compactness, and stability. They also use non-battery LED wheels and have a vast amount of colored options, which promises great fun and performance for those who choose to purchase a board with this brand.
But outside of the cruisers, the M Merkapa brand also has other makes and models, such as the M Merkapa 31″ Pro Complete Skateboard. Models that are similar to this board use hard rock double kick boards for the deck making it a great choice for professional skaters. The decks are also known for their high-impact resistance and their high speed ABEC-9 bearings which help with control and speed.
6. Krown
The Krown brand is reviewed as one of the good skateboard brands of 2019 with its quiet and smooth ride. These full-sized skateboards are crafted from quality materials and hold up over time and constant use. Krown is known for being one of the world's most popular leading brands and international manufactuers, so they offer a large amount of variety in their makes and models.
Often, Krown skateboards have an elegant design. Because they are typically larger skateboards, their performance and size are similar to a small size longboard. This size makes it easy for beginner skaters to learn on, but because to Krown's craftsmanship of the design and shape, these boards also appeal to expert skaters.
Krown's decks often range around 7.5×31 inches, giving you room and space to be comfortable while also offering a balanced ride with a strong range. Krown usually uses Canadian Maple for their decks, like with their Krown Rookie Complete Skateboard, making it a stable deck, especially when combined with graphic wheels that ensure a smooth, fast, and safe ride. The 0″ aluminum black trucks add to this support and black grip tape provides a better sense of control for any rider.
7. Punisher Skateboards
Punisher skateboards are often known as being regarded for beginner boards, but that does not undercut the quality of the brand. In fact, Punisher boards are usually well received because of their impressive build and control. Models such as the Punisher Skateboards Elephantasm Complete Skateboard are prime examples of why this brand is one of the best skateboard brands for beginners, as it represents the brands dedication to quality with a concave deck profile that helps with turning, riding, and tricks.
Punisher often also uses ply Canadian maple wood for double kickboard steadiness, and all models use high speed wheel bearings, as well as PE riser pads. But what makes this brand unique is that Punisher hires artists from all over the world to commission and produce art that is featured on their board decks. Each artist is hand picked for their talent in hopes of appealing to riders.
Weighing in at around 6 pounds a board, Punisher boards are usually lightweight and thus easy to carry around as well as maneuver when riding. Their use of grip tape keeps skaters steady and their alloy trucks and bases in combination with polyurethane wheel promise a smooth and quiet ride. Plus, their ABEC-7 high speed bearings promise some speed if that's something you're interested in!
8. Element
Element is arguably one of the most well known brands in the skating world, and rightfully so, as it is a brand that focuses on quality by using top-notch materials and technology that promise maximum durability and functionality for any and all riders. Because the Element brand has been around for so long, it still keeps true to tradition with a traditional yet slightly more modern deck, which some swear are the secret to its durability.
Element boards use 7-ply maple wood veneers which helps against the harshness of any environment or terrain that you ride in or on. This brand is also considered one of the top skateboard brands in 2019 because of its consistent dedication to fun and stylish graphics.
Typically, Element boards have a width of 7.75 inches and a length of 31.24 inches, such as their Element Section #9 Skateboard, which makes it perfect and spacious for intermediate skaters who like to have a little more space, stability, and control. To some, the board may feel a bit thicker and stiffer when compared to other brands, but the board itself is light weight and easy to carry. However, it might be worth noting that this brand is known for being a bit more expensive– but that is because they promise great quality for all skaters!
9. Enkeeo
Enkeeo is often reviewed as being a one-stop shop for sport lovers because this brand goes above and beyond for its clients. This International brand is one of the top skateboard brands of 2019 because of their variety and use of high-quality materials.
There are five major lines in Enkeoo: classic scooters, caster boards, longboards, cruisers, and complete skateboards. These models, designs, and makes are all consistently well reviewed, with customers always satisfied with the fact that these boards rarely have experienced broken decks (even with great tricksters riding them!) and that the wear is resistant to outdoor use no matter what environment or terrain you are on.
Combined with high-quality material such as long-lasting casters, and sturdy desks, the Enkeeo brand has fantastic models such as the Enkee 22 Inch Cruiser Skateboard, which is perfect for any rider. This brand takes pride in that their boards come with CE certification, so their boards are well-built and safe to ride, withstanding up to 220 pounds. No matter what level of skill you are at, the Enkeeo brand promises a compact body, smooth riding, and the utmost splash of fun with designs.
10. Almost Skateboards
Founded by pro skateboarders Daewon Song and Rodney Mullen in 2003, Almost skateboards is one of the best skateboard brands in 2019. Since their opening in 2003, this company and brand has focused on fun and creativity. They produce decks that are made of 7-ply, 8-ply, and carbon fiber constructions. Their decks are also bound with resin epoxy glue which ensure shock resistance.
The brand also offers completes that include boards with the deck, wheels, trucks, and bearings. An example of this complete board is the Almost Skateboard Complete Facchini Diagonal Many of Almost models have a mellow concave and steep kick, allowing for any rider to practice tricks on. Their trucks are usually lightweight but are also made of heavy-duty aluminum, which promises to save the board from some wear and tear.
This brand also uses light synthetic oil, and rubber shields for their wheels, giving their boards some of the best bearings for consistent control and turning. Typically, if you order a complete board, they arrive unassembled which can allow for customization and have been known for their easy assembly. No wonder this brand is a top skateboard brand!
Overall, choosing a skateboard brand to purchase a board from might be a bit overwhelming considering factors such as quality and price. There are just so many great options out there! But we hope this guide helped you get a better idea as to what the best skateboard brands of 2019 are, that way you don't have to feel overwhelmed, and that you can get skating quickly– and safely of course!